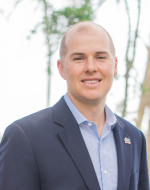 Kyle has held a FL real estate license for 8 years and has been full time in the industry since 2013. He joined Selby Realty at the beginning of 2018 and focuses on investment sales and leasing as well as property and asset management. Prior to joining the firm Kyle was a graduate student at the University of Florida where he earned his Master Degree from the Nathan S. Collier Master of Science in Real Estate program in the Warrington College of Business. For the years before that he helped grow a group of real estate investors in Nashville, TN by underwriting acquisition and development deals, negotiating contracts and working alongside attorneys and title agents to remove encumbrances on hundreds of real estate acquisitions. Other responsibilities he succeeded with include conducting local market research to better understand trends and preparing monthly reports to track opportunities in the pipeline.
He created and launched the residential division of Selby Realty called The Selby Team where he is enjoying putting his education and his experience to work for buyers and sellers of homes in the greater Daytona Beach area.
Kyle married his high school sweetheart, Kelly, in 2014, and they welcomed twin girls in March 2018 named Madison and Merrill.
Agents' Listings